Read This Before Setting Up An Online Store
If the answer were straightforward, it wouldn't need an article and there would be tons of online stores out there. But the fact is many people that start their own stores, quit by the first couple of months. Here are some things to consider before setting up an online store.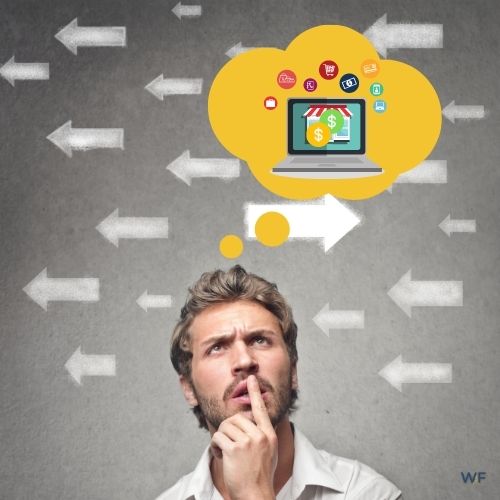 Platforms for your online store
Once you decide you need your very own store to sell your product or service online you need to find the right platform. This is going to be the base or foundation upon which you will rely for hosting your products and services online.
You are spoiled for choice, and you will have many sources of information when it comes to selecting the right one. Just make sure you spend the time to understand what these stores have to offer and what you can do with it as some will have limitations or additional paid features you assumed are part of the base cost.
Here are just some options you have to choose from in no particular order.
Squarespace – Starting from $12 or approximately R180 per month
Shopify – Starting from $29 or approximately R440 per month
Wix – Starting from $4.5 or approximately R68 per month
Bigcommerce – Starting from $29 or approximately R440 per month
Eecwid – Starting from a free plan
Network Solutions – Starting from $8 or approximately R120 per month
Web – Starting from $10 or approximately R151 per month
WordPress – Starting cost varies between $13 – $66 per month excluding any initial costs.
(Non promotional prices as of Q3, 2022)
This depends on which provider you are going with, features you need, hosting fees, maintenance and so on. This option entails you building your own store and not using predefined options and customization.
As you can see from the above, there are many options, and the pricing varies because each provider has structured their packages differently. I highly recommend you go to these non-WordPress providers and look at their pricing guide and what you are getting for a fair comparison.
Non-WordPress Online Store
You will see that it varies in the following key areas:
number of products you are allowed.
whether you are allowed to use your own domain.
The level of analytics and reporting.
Payment methods allowed.
The rate or fee you pay them for purchases made over the above fees for your pay gate and monthly fixed cost.
Your method of communication.
Number of users allowed to manage the online store.
Limitation on marketing platforms like Google and Facebook.
Ways you can interact with the customers.
and more.
I have missed a few but these are essentially where each provider varies when it comes to functionality. The variety of themes accessible to you will also depend on the plan you choose. The basic themes come with the most affordable plan, and if you desire more sophisticated options and features, there will be an additional cost. It's important to note that if you anticipate future development for your growing online store, you might be restricted to the chosen provider since access to source files is typically unavailable.
Keep in mind they are not preventing you from modifying code to make money, they do so as they are providing a fully managed solution where you only deal with the front end. By doing this they maintain a more stable environment and user-friendly experience for you and your customers. These options are designed for non-developers and users that want to spend less time managing the store. Those that offer developer packages are much more expensive as you are essentially paying the developers rate.
WordPress Online Store
The presentation of this option can vary among providers. Some may present a WordPress front-end with recommended themes, while others provide a server for you to install and configure WordPress on. Opting for WordPress grants you complete control over every aspect of your online store and website, with minimal restrictions on what you can manage independently. It's worth noting that certain features may still require payment. WordPress's modular nature allows for extensive online support and freely available plugins, ensuring that any payment is specifically for the features you require.
As your online store grows and you get more revenue, scaling is cheaper if you have the right web hosting package.
Because you have the freedom to create as many pages, products and services as you need with no limit on images, you need to keep an eye on your hosting limitations. Unlike the non-WordPress options where this is managed for you based on the plan you are on, you need to manage this yourself.
Pros
Cheaper to manage.
You are not limited to slow or shared resources. Dedicated resources is far cheaper to acquire.
Cons
Setup time will be extend as there are more options and attention required for performance, security and maintenance.
Lastly, if you are on WordPress, this can improve your SEO ranking IF configured correctly. Almost all non-WordPress options have limited themes or bloated add-ons which you are not in control of that slows down your site or can be poorly structured. Changing or modifying this can be costly. On the other side, when using a WordPress theme, you have many more options to choose from upfront and control over scripts. So, selecting the right theme and configuring a theme that leans towards performance and design is important.

In summary search engine optimization can be done on any website platform but is significantly easier to control and manage on WordPress.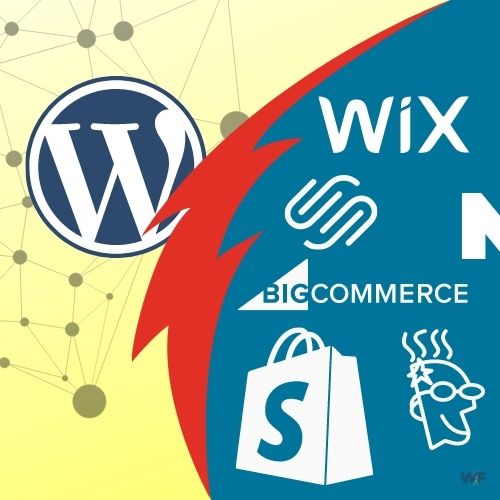 Conclusion
In conclusion, here are five comparisons I can make.
| | |
| --- | --- |
| Non-WordPress options above | WordPress |
| Lower starting cost | More functionality and customization with basic site |
| Higher Scaling costs | Scaling is granular where needed |
| Limited control over customization | Freedom to customize most or all aspects |
| No technical knowledge required | Some technical knowledge required |
| Less control over site performance | Better or full control over site performance |
| Pay for things you don't need or use | Pay for what you use. |
| Often specialized in some areas and not others | Highly popular with tutorials, plugins highly available to specialize in any area. |
I may have been a bit biased, but I urge you to do your research and visit these providers and other forums/blogs before deciding. If you have a hand full of products running a side hustle, then perhaps a non-WordPress option is better for you. For a more hands-on solution with the bells and whistles, a WordPress solution probably is for you.
What if I told you there was a solution with the benefits of both? A managed WordPress solution without worrying about having performance issues or having all the technical expertise. That's right, we can set you up with your own WordPress store where you have full control over your site or have us manage it for you.
We will manage all technical requirements, the initial website build and online store setup so you can hit the ground running. Contact us now to find out more or visit Business Start-Up to see our packages.